Dinner 5779
17th Annual Shul Dinner - 5779
Sunday, March 31st, 6:00pm
Congregation Keter Torah
ARZEI DAROM ANNUAL DINNER
Honoring:
Ellie and Yosef Rothstein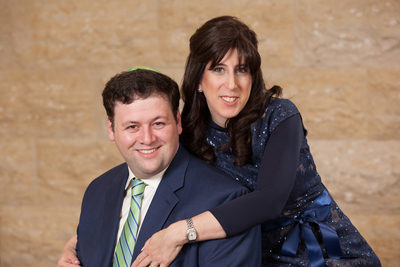 Our guests of honor, Yosef and Ellie Rothstein, have been active and devoted members of Arzei Darom since moving to Teaneck in 2010. Their constant leadership and consistent support have been key to the ongoing success and growth of our shul. The Rothsteins have passionately focused on building a warm and welcoming Arzei community.
Yosef's four-year tenure as President of Arzei Darom began in 2014. With his tireless dedication and skilled guidance over the past four years, we have transformed our beautiful main sanctuary, arranged for the purchase of the adjacent property, and substantially increased our membership. Both as President and before that as a Board member, Yosef's commitment, vision, and devotion have been key to our shul's success. From finance to events to constitution to welcoming new families, there is no aspect of Arzei that has not benefited from Yosef's unwavering leadership, attention to detail and concern for the well being of our members.
Like Yosef, Ellie is dedicated to growing a caring, strong community at Arzei Darom. She has been actively involved in the sisterhood since moving into the community. Ellie is always quick to help make our programs successful, assisting with Mishloach Manot, contributing to the bake sale, and organizing and hosting events. Ellie serves as Arzei Darom's first Tomechi Shabbos coordinator and participates in the bikur cholim rotation at Care One. Recently named chair of Arzei's chessed committee, Ellie organized and continues to facilitate a support group, Chazak Together, for families of children struggling with emotional challenges. Ellie also arranges a parsha class for children who attend public school. She consistently takes the time to notice needs in our community and then personally steps up to take care of them.
What is the most important to the Rothsteins is that the heart of our community grows stronger. As Yosef often reminded the kehillah during his Presidency, how we treat each other makes such a difference in our community. For the Rothsteins, that begins with hachnassat orchim. In fact, the Rothstein family's hospitality, complete with an open, welcoming home and delicious and plentiful gourmet food, is legendary in the Teaneck community and beyond. At the Rothstein's, hosting guests is a family affair with Yosef, Ellie and their sons, Daniel and Zephania, cooking and baking together in the kitchen, enthusiastically hosting members of our community, and wining and dining visitors to our community, as well.
Beyond Congregation Arzei Darom, Yosef and Ellie are strong supporters of the Yoetzet Halacha program, Areyvut and other local organizations. We are so grateful for the Rothstein's generosity and contributions to growing our shul as a robust community and look forward to their continued integral involvement for many years to come.
This form is not active.
Wed, September 18 2019
18 Elul 5779
Today's Calendar
Shacharit

: 6:45a
Plag Mincha/Ma'ariv

: 5:30p
Mincha/Maariv

: 6:45p
---
Upcoming Programs & Events
---
This week's Torah portion is

Parshat Ki Tavo
Candle Lighting
Erev Rosh Hashana
View Calendar
Where To Find Us
Congregation Arzei Darom
725 Queen Anne Road,
Teaneck, NJ 07666
Wed, September 18 2019 18 Elul 5779