Scholar in Residence - Nov 2-3Rabbi Asher Crispe
CONGREGATION ARZEI DAROM
EXTRAORDINARY SCHOLAR-IN-RESIDENCE WEEKEND
with Rabbi Asher Crispe, from Vermont
Renowned Lecturer, Media and Technology Expert, Futurist
Friday Night Oneg - Fabrengen Style
For the Love of Money and Torah: The Spiritual Metrics of Money and Cryptocurrency
8:15PM @ Home of Donny & Sandra Knoll
721 Carroll Place
Shabbat Morning (after davening)
Origins of Political Liberalism and Conservatism in America: Does the Torah Take Sides?
Seudat Shishleet Drasha (between Mincha and Maariv)
A Jewish Futurist's Take on Technology: Did our Sages Predict the Smartphone Era?
Motzei Shabbat Melave Malka
7:45PM @ Arzei Darom
Wine from Israel featuring Carmel Winery + Vermont Cheese Pairing with the "Cheese Guy"
"Hollywood & Hashkafa: The Interweaving of Film and Jewish Thought "
followed by Ben & Jerry's Ice Cream Bar
For Sponsorship Opportunities please contact Shira Grunstein
jaykayelle3@gmail.com | (201) 658-4829
Thank you to our Sponsors
Sabrina & Jason Bernath
Ally & Moshe Blech
Patty & Sam Borodach
Shira & Robert Grunstein
Dori & Jay Haberman
Sandra & Donny Knoll
Valerie & Miles Levin
Elana & Benjy Rosenbluth
Thank you to our committee:
Rachel Bensinger, Patty Borodach, Jenna Gasner, Shira Grunstein, Jay Haberman, Donny Knoll, Miles Levin, Max Lindenfeld, Pnina Safier
Guess Who's Coming To Lunch?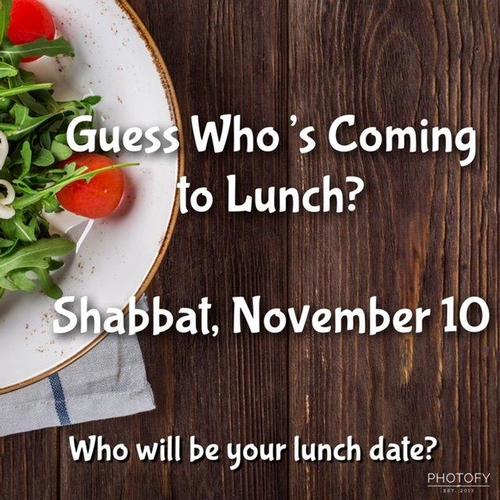 If you would like to HOST Arzei families in your home for lunch, please RSVP here.

If you would like to participate as a GUEST for lunch, please RSVP here.

Any questions, email Rachel Distenfeld at rdistenfeld@yahoo.com
Congregation Arzei Darom
Arzei Darom is a Modern Orthodox Synagogue
serving the South of Cedar Lane area in Teaneck, NJ.
Come check us out for our daily minyan or spend a Shabbat with us by emailing info@arzeidarom.org
Fri, October 19 2018
10 Cheshvan 5779
Today's Calendar
---
Upcoming Programs & Events
---
Parshat Lech Lecha
Candle Lighting
Shabbat Mevarchim
View Calendar
Where To Find Us
Congregation Arzei Darom
725 Queen Anne Road,
Teaneck, NJ 07666
Fri, October 19 2018 10 Cheshvan 5779